Quote:
The leader of the Islamic State militant group, Abu Bakr al-Baghdadi, was killed during a U.S. special operations forces raid in northwestern Syria, U.S. President Donald Trump announced Sunday morning.
"Last night, the United States brought the world's No. 1 terrorist to justice. … He was a sick and depraved man, and now he's gone," Trump said at the White House Oct. 27, noting that the United States had no casualties during the operation. "The world is now a much safer place."
-
Foreign Policy.com
Because this is about Trump, there's more to the story - as usual.
Pelosi says Trump kept lawmakers in dark on raid
Quote:
House Speaker Nancy Pelosi is criticizing the White House for failing to notify congressional leaders before the U.S. raid in Syria that President Donald Trump says killed the leader of the Islamic State group.

She notes that the U.S. let Russia know the raid was in the works.
What does Russia have to say about this?
We Have 'Valid Doubts About The Reality And Success' Of ISIS Raid
Quote:
The Russian Federation's military said on Sunday that it had "valid doubts" about President Donald Trump's claim that ISIS leader Abu Bakr al-Baghdadi had been killed.

In a speech from the White House on Sunday, Trump first thanked Russia for its assistance in the raid. According to Trump, Russia had allowed U.S. aircraft into its airspace to conduct the operation.

But later on Sunday, the Russian military indicated that it was unaware of the raid, according to BBC reporter Steve Rosenberg.

A spokesperson for the Russian military said there were "valid doubts about the reality & success" of the U.S. operation.

"We are not aware of any assistance having being given to US Air Force flights into the air space of the Idlib de-escalation zone in this operation," a source in the Russian defense ministry added.
...and how would this, yet another Trump cluster-fck, not be complete with Trump's very own photo-op 'victory' ala Obama's bin Ladin Situation Room photo?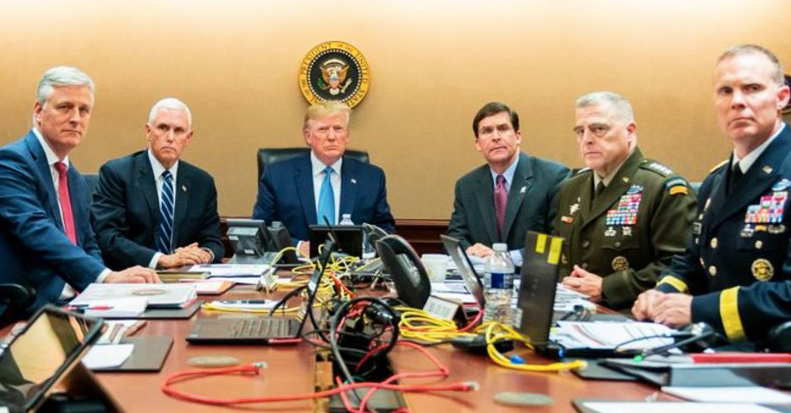 Guys, at least plug the cables into computers to make it
seem
like you all watched the take-down in real-time.
Such amateurs.